Our Chocolate Chip Cookies are a classic hit! Crumble out of your cookie comfort zone and try the 4 variations listed below! (If you haven't already!) They'll be sure to leave you loving Choc Chip Cookies even more! (If that's even possible!)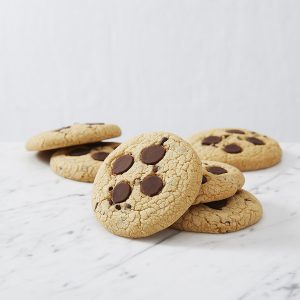 #1: Choc Chip Cookie Ice-cream Sandwich
An unquestionable fave! With 2 desserts in 1, you really can't go wrong! Scoop your go-to ice-cream flavour between your Wilton's Choc Chip Cookie (our is classic vanilla!), press down and make your day that much better in less than 2 minutes!
 The fun doesn't stop there! Get creative with your cookie – roll it in choc chips, crushed nuts, hundreds and thousands or anything else you can think of!
#2: Choc Chip Cookie Milkshake
Blend a cookie or 2 (or 3 – we won't tell anyone), a cup of your choice of milk and a scoop of ice-cream (vanilla, chocolate? The world is your oyster!) and you've got yourself a yummy choc chip cookie milkshake! Decorate with more choc chip goodness (like pictured below!), top with whip cream and you are in literal cookie heaven! Look out Melbourne 'Monster Shake' craze!
#3: Choc Chip Cookie Trifle
If you've got a bit of extra time on your hands, this one's for you! Create your choc chip cookie trifle like the one below by adding your fave layers! Pictured below is a choc mousse, peanut butter, whipped cream and crumbled cookie variation! For a healthier but yummy none-the-less version, mix it up with layer upon layer of fruit, yoghurt and crumbled cookies!
#4: Choc Chip Cookies with Milk 
Predictable – Yes. Overrated – NO WAY! We can't be dissing the Cookie and Milk combo can we? Warm up your Wilton's Choc Chip Cookie in the microwave for a few seconds (until the choc chips slightly melt) and dip that baby into a nice glass of milk.
*Images sourced from Pinterest